Daily devotion by Joseph Prince for today is here.  The word of God is food to the spirit man. Read and digest the word of the lord for today and see how powerfully it will impact you.
The topic of Joseph Prince Devotional for 14Th January 2021 Is "jesus Has Borne Your Diseases."
Scripture: Isaiah 53:4
Surely He has borne our griefs and carried our sorrows…
Imagine the dreadful disease leprosy eating a man alive. The poor leper in Matthew 8:2 could stand his suffering no longer, so he came out into the open to look for Jesus. He needed to know if Jesus was willing to heal him. When he saw Jesus, he fell at His feet and said, "Lord, if You are willing, You can make me clean" (Matthew 8:2). The Son of God looked at the outcast with love in His eyes, reached out His hand, touched him and said, "I am willing; be cleansed" (Matthew 8:3).
Perhaps you are suffering from some disease and wondering if God is willing to heal you? You are not sure if He is willing because just as you have seen people get healed, you have also seen people not get healed. My friend, don't look to people's experiences. Look to the cross! As surely as Jesus bore away your sins, He also bore away your diseases!
I want to give you a solid foundation today for believing this truth. In Isaiah 53, the chapter on our Lord's crucifixion, it says in verse four: "Surely He has borne our griefs and carried our sorrows." Now, let's learn a little Hebrew. The words "griefs" and "sorrows" here mean "sicknesses" and "pains" in the original Hebrew text. So Isaiah was referring to physical healing.
Once, I asked a Jewish friend to read this verse in his Hebrew Bible and tell me what it means. He told me that his Bible says clearly that Jesus has borne our sicknesses and carried our pains.
If that is not enough, look at Matthew 8:16–17: "…they brought to Him many who were demon-possessed. And He cast out the spirits with a word, and healed all who were sick, that it might be fulfilled which was spoken by Isaiah the prophet, saying: 'He Himself took our infirmities and bore our sicknesses.'" Matthew quotes Isaiah 53:4, saying that Jesus took our "infirmities" and bore our "sicknesses." The context here refers to physical healing.
My friend, if you will just believe this truth, your days of sickness will be over. You will walk in greater health because the One who has surely borne your sicknesses and carried your pains says to you, "I am willing, be cleansed!"
This devotional is written by Joseph Prince. He is the evangelist and senior pastor of New Creation Church based in Singapore. [..read more..]
Do you want to be saved from the cruelty of this world? please click here
⇒ Check This Out: Christian Daily Supplement Designed to Transform Energy Levels & Revitalize Your Health! Made from 8 Biblical Herbs to give you A LifeTime Of Wellness and Grace.
Sponsored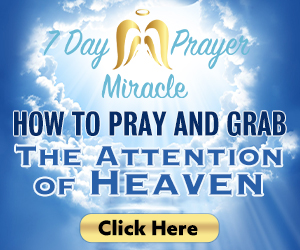 Usage Right

: The content on this site is posted with good intentions. If you own this content & believe your copyright was violated or infringed, please CLICK HERE to contact us to file a complaint. Please provide proofs of ownership and reasons for actions to be taken in your message Featured Daily Devotional Open Heavens • Rhapsody of Realities • Daily Manna • MFM Devotional • Joyce Meyer Devotional • Our Daily Bread Devotional • Joel Osteen Daily Devotion • Winners' Chapel Covenant Hour Of Prayer with Bishop Oyedepo